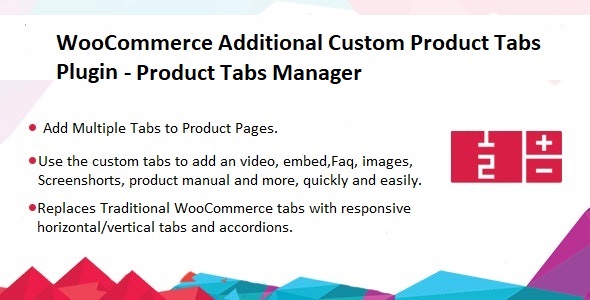 Before purchasing the product customer look for every small detail about the item which greatly effects the Bounce and conversion rate. To Reduce the Bounce
and conversion rate Additional Custom Product Tabs Plugin is a powerfull woo-commerce extension which helps store owner to add every small detail about product in a user-friendly way.
This plugin allows the store owner to add videos, screenshots, images, reviews, faqs and many more in separate tabs to increase conversion rate and reduce customer bounce back ratio. In order to help visitors to your WooCommerce site store owners can easily manage the look of tabs to horizontal, accordion and vertical and feel of the tabs to match your store design by using the handful of admin options to customize different colors for the product manager tabs.
Features Of Aditional Custom Product Tabs Plugin
Add Multiple Tabs to Product Pages.
Use the custom tabs to add a video embed, Faq, images,Screenshots, product manual and more, quickly and easily.
Replaces Traditional WooCommerce tabs with responsive horizontal/vertical tabs and accordions.
There is option for global tab. Global tabs allow you to create tabs which will show on all the products.
Easily reorder custom tabs by drag 'n drop and fit your needs.
Easily Change the feel of the custom tabs to match your store design.
Source