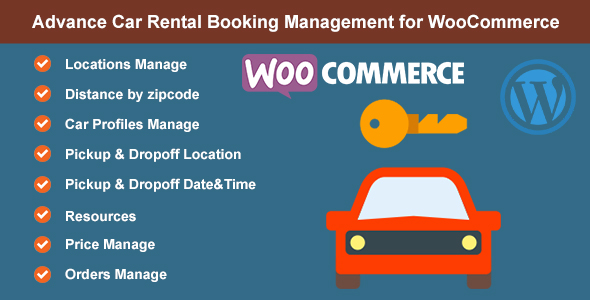 A useful plugin for your car rental service, you can also use it for other services such as bike rental, motobike, taxi etc.
Admin can create locations based on location name and location zipcode, distance between locations will be calculate by zipcode.
Admin can create car profiles, each profile admin can choose display locations, blocked dates of schedule, and manage resources and price.
Admin can add car profile to WooCommerce product, then customer can choose pickup location, dropoff location, pickup date&time, dropoff date&time,
resources, price of toal will be calculate follow your configuration.
Then customer add product to cart and complete their order, the information will be show on cart page and order completed page.
Admin also can booked information in product edit page and order edit page in backend.
Very simple and flexible, will be very useful for your website.
If have any questions do not hesitate to contact me.
Version: 1.0 – Last updated: 2018, Aug 20
Compatible with WordPress 3.x, WordPress 4.x, WooCommerce 1x, WooCommerce 2x, WooCommerce 3x
Browsers: IE8, IE9, IE10, IE11, Firefox, Safari, Opera, Chrome
Source