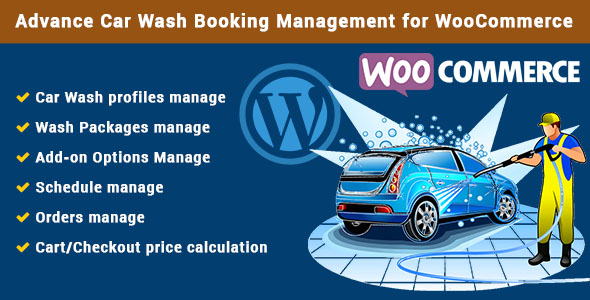 A car wash or auto wash is a facility used to clean the exterior and, in some cases, the interior of motor vehicles. Car washes can be self-serve, fully automated, or full-service with attendants who wash the vehicle.
And if you are looking for a solution for your WordPress website, this is a great plugin. It works with WooCommerce, allows customers to choose wash package, add-on options, schedule, then add product to cart and complete their order.
Price will be calculate follow your configuration, the booked data will be also show on cart page and order completed page, it also show in order detail page and product detail page in backend so admin can see it.
Admin can create profiles, and manage packages, add-on options for each profile. Then add profile to WooCommerce product, the customer will can see data of profile and proceed to booking.
You can use this plugin for other types of business with similar types, not only for the car wash.
If have any questions do not hesitate to contact me.
Version: 1.0 – Last updated: 2018, Aug 30
Compatible with WordPress 3.x, WordPress 4.x, WooCommerce 1x, WooCommerce 2x, WooCommerce 3x
Browsers: IE8, IE9, IE10, IE11, Firefox, Safari, Opera, Chrome
Source