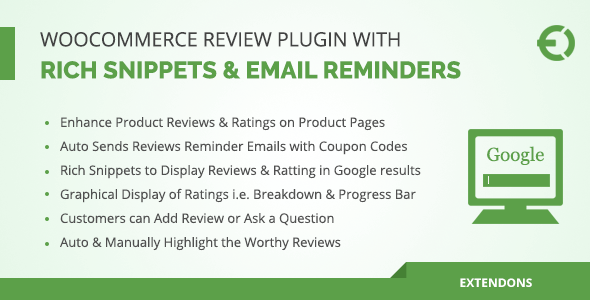 WooCommerce review plugin allows your customers to rate and review your products right on your eCommerce website. You can encourage them to share their opinion with a simple comment-like option. Allow them to upload files to better explain their stance. You can reply to customer reviews, and manage them for better readability and avoid spam. Configuration settings include customizing the customer reviews block and other useful options.
Allow customers to rate and review products
Rich snippets to display reviews & ratting in Google results
Facilitate customers to submit files with reviews
Post a reply to customer reviews
Edit, approve or delete customer reviews
Customize review block
New Features
Option to submit review or ask a question
Displays reviews in a separate section
Allow customers to attach videos with review
Customers can watch any review to get notification when new reply added
Disable Replies on Reviews
Filter reviews by "Most Recent" or "Most Useful"
Import or Export Product Reviews
Auto sends reviews reminder emails with coupon codes
Auto or manually highlights the worthy reviews
Customers can ask a questions about products
Separate section for product questions
Hide reviews automatically if they are reported as inappropriate
Choose whether users can add one or more reviews
Choose users that can reply to a review (none, all, administrators only)
Set how many reviews to show per page
Auto Sends Reviews Reminder Emails with Coupon Codes
It automatically sends the review reminder emails to customers who did not review your product after buying. You can create various email templates and configure the sending time. You can also attach the coupon code with emails to attract the customers.
Displays Product Rating Breakdown & Progress Bar
With WooCommerce customer reviews plugin, you can attract more customers by displaying product rating in an appealing manner. With rating breakdown, they can view the number of people rated the product as 3, 4, or 5. Whereas, progress bar the number of ratings submitted by customers.
Reviews and Ratings Appear in Google Rich Snippets
WooCommerce Product Reviews plugin automatically displays the product rating and testimonials in rich snippets. It increases the click-through rate of your product pages that ultimately helps in increasing the traffic to serve and convert.
Auto or Manually Highlights the Worthy Reviews
WooCommerce product reviews plugin auto highlights the highest rated reviews. Admin can also highlight any review manually from the back office.
Filter Reviews by "Most Recent" or "Most Useful"
WooCommerce product review plugin also enables filter for product reviews. Users can filter the reviews by "Most Recent" or "Most Useful".
Manage Customer Reviews in Separate Section
You can exercise all your rights to edit, approve, or unapproved a comment submitted as a review by customers in seperate section. Edit a testimonial for better display and readability, or delete if it seems to be inappropriate or a spam comment.
Import and Export Product Reviews
You can import and export the product reviews with complete details in a CSV file.
Option to Submit Review or Ask a Question
Customers can choose to submit review for products or they can also ask a question about products.
Enable Customers' Ratings and Reviews for Products
WooCommerce product reviews plugin helps you to attract more customers by enabling your existing ones to rate the products that are represented by 5 stars and a review your products as well. With a comment-like review submission, customers can speedily post their experience about a product or service they consume. They can write a title and brief description of the review.
Customers can Attach Image With a Review
WooCommerce Product Reviews plugin empower your customers to submit files while writing a review so that you can better understand their experience, opinion, and suggestions. You can also restrict the submission of files to certain formats like JPG, GIF, DOCX, and PDF.
Allow customers to Attach Videos with Review
Customers can also attach the videos using URL with their reviews. You can also remove the video link from the back office.
Admin Can Reply the Customers' Reviews
With a reply feature, you can acknowledge your valuable customers who have spared time out of their busy schedule in reviewing the product. Write a reply to appreciate customers and let them know that their kind words matter a lot.
Users can Reply Further to Your Comments
WooCommerce review plugin allows registered users to reply the comments you posted in response to their reviews. This helps them continue a productive discussion that can be appreciation or suggestions for improvement in the products.
Customers can Vote Up/Down and Flag Your Comments
Customers and the users of your websites can up vote, down vote, or flag your comments as inappropriate. The users get an opportunity to vote for or against a comment to document their opinion.
Disable Replies/Comments on Reviews
You can also disable the replies for any review from the back office.

User can Watch the Review to Get Email Notifications
Registered users can click "Watch" button to get email notifications for any review when reply is added to it.
Customers can Ask a Questions about Products
It also enables the "Ask a QUESTION" which helps users to submit the questions they want to ask about products.
Separate Section for Product Questions
This plugin display all the questions in a separate tab for easy management. You can reply to questions directly from the frontend.
Personalize Reviews Block for Better Usability
You can write custom titles to personalize the customer reviews block that shows average rating, rating breakdown, and represent reviews with stars.
Additional Features of WooCommerce Review Plugin
Rating and Reviews appear beneath the title of the product page
Enable review title to let the customers write a review title as well
Enable Auto-approve or disapprove reviews
Allow specific file extensions for users to upload
See What Customers Says About Our Products

Version 1.2.0 Updated:
New Features:
Following new features has been added.

1. Allow customers to attach videos using URL
2. Customers can choose to submit review or ask question
3. Customers can "watch" any thread to get notified of replies to the contribution
4. Choose whether users can add one or more reviews
5. Hide reviews automatically if they are reported as inappropriate more than a pre-set number of times
6. Disable replies on a single review only
7. Choose users that can reply to a review (none, all, administrators only)
8. Filter reviews by "most recent" or "most useful
9. Import Export product reviews
10. Review reminder emails after X days, multiple emails with option customize emails and send coupon codes as reward if they leave a review - all automatic
11. Set how many reviews to show per page
12. give the spotlight to the worthy reviews
13. enable review editing
14. Seperate Section to Display All Reviews


Version 1.1.0 Updated:
Some JS error fixed.


Version 1.0.0:

1) Initial release of plugin.

Source