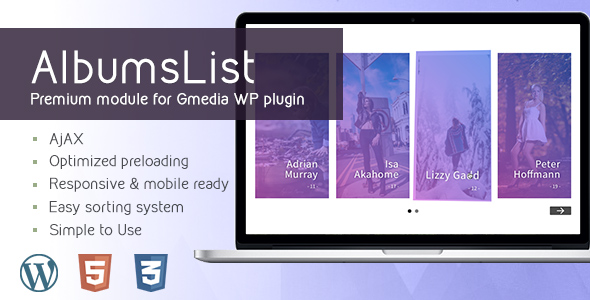 Scan QR code to view gallery demo on your mobile device:
Features
Gmedia makes it easy to allow your clients to view and bookmark proofs of images from a gallery with the Proofing Feature.
Splash gallery for your Albums, Categories, Tags from Gmedia Library
Optimized for any widget area
Gmedia Tags Cloud
Change colors, fonts and thumbnails sizes
Unlimited layouts
EXIF Data
Change colors
Responsive and mobile friendly
Built with AJAX
Ability to play audio files
Share collection or individual photo
Working in all major browsers
Easy sorting system
Various settings
Optimized preloading
Simple to Use
How to use:
Install free Gmedia WordPress Plugin.
Download and install AlbumsSwitcher Module ZIP.
Create an album and publish it in your Post or Page.
How to create a photo gallery containing several albums.
Changelog
v3.2
- Bug fixes
- Major update
v3.0
- add Youtube, Vimeo support
- Deeplink support
- FullScreen support
v2.3
- bug fix - Bookmarks Share (Update Gmedia plugin > v.1.12.7)
- bug fix - Lightbox  iOS 11.3
- Added Bookmarks 
- Added Likes Button 
- Added EXIF data 
- Added Social Sharing for Albums, Categories and Tags
- initial version
v1.0
Source