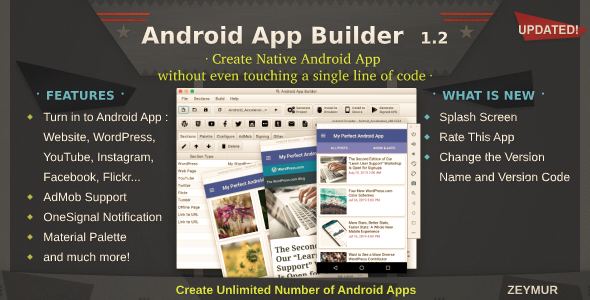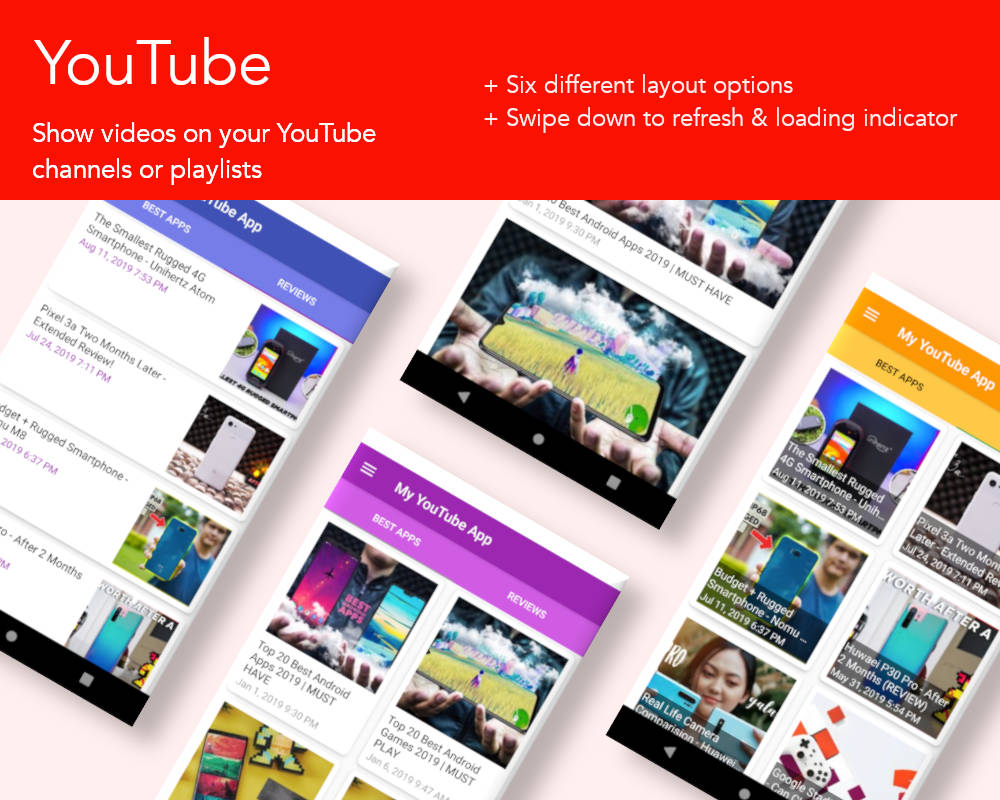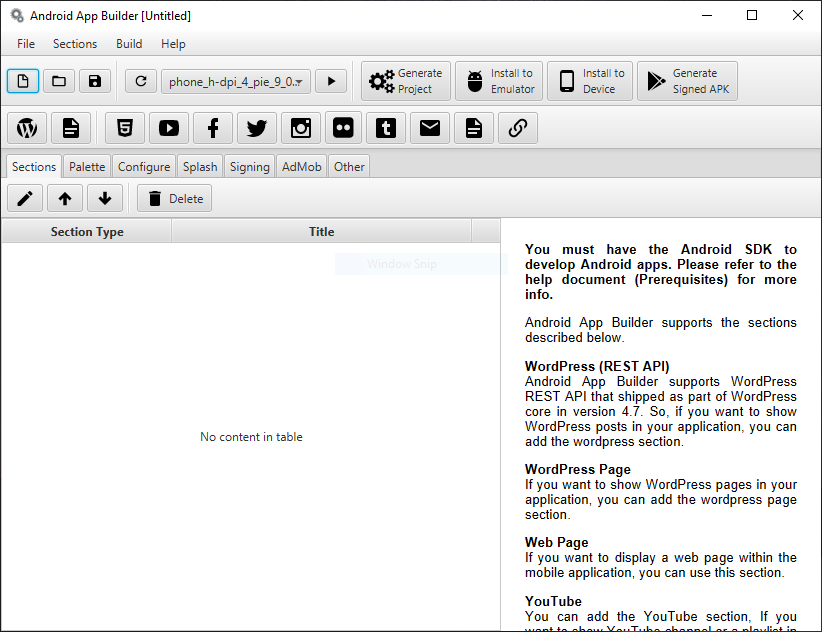 In this video, you can see how to turn a website into an Android application in minutes with the Android App Builder : Android App Builder – Create WebView App
You can see how easy it is to create a WordPress app with Android App Builder in this video : Android App Builder – Create WordPress App
Android App Builder is a rapid Android application development tool. It builds a native application for Android. You have an application without even touching a single line of code. Also you don't need to open Android Studio (but it must be installed). You can do all of the following operations with Android App Builder.
Generate your ready to run project.
Test your new application on emulator or a real device.
Generate signed APK to publish.
It has the perfect concept both for those without programming skills and for Android developers.
If you don't have programming skills
Android App Builder is a self documented and easy-to-use software with graphical user interface.
You can create your Android app in minutes.
It is currently supporting twelve sections that described below.
You can add, edit or re-order these sections according to the needs of your project.
When you are ready, Android App Builder will create a ready-to-run project that contains the necessary source files for you. You will have an app that you can publish to the Play Store without writing a single line of code.
If You Are an Android Developer
Android App Builder uses the same build system (Gradle) as Android Studio.
Thus, projects that created by Android App Builder can be opened directly by Android Studio.
So, you can fully customize it before publish or you can also use it as a starter template for your new project.
Features
Unlimited Apps – Buy once then create unlimited number of Android apps.
Generate signed APK.
Install to emulator or device for testing.
Full compatibility with Android Studio 3.5.
AdMob Support – Show banner and interstitial advertisements. You can set how often interstitial ads are shown.
OneSignal Support – Send notifications to users.
Customizable splash screen.
'Rate This App' menu option.
Swipe down to refresh.
Loading indicator.
Share – Your users can share your content.
Material Palette – Select the desired colors from the material palette.
Ready for translation – The generated code uses string resources, not hard-coded strings.
Change the launcher icon
Change the package name
Change the app name
Change the version name and version code.
Used infinity scroll in lists
Used only free and open source third party libraries.
Requirements
Android App Builder works on both Windows and Mac systems. The following versions are supported :

Intel-based Mac running Mac OS X 10.8.3 or newer.
Windows 10 (8u51 and above)
Windows 8.x (Desktop)
Windows 7 SP1
Windows Vista SP2

Android Studio 3.5 or newer. It's free and downloadable from https://developer.android.com/studio
Note for Older Customer
This item was previously listed in the apps category. Resubmitted as a new product to change category. If you are an older customer, please don't worry about that. When you need to download latest release, contact me via my profile.
WordPress Section
Show WordPress posts on your Android app
Six different layout options.
Parallax efect in post detail.
Compatible with any wordpress site.
WordPress Page Section
Show WordPress pages on your Android app
Web Page Section
Convert any mobile or responsive website into an Android app within minutes via Android App Builder.
HTML5 Support (Audio, video, geolocation etc.)
File download & upload
Permission request at runtime, If needed.
URL handling. You can redirect some specific links to default application.
Show / hide action bar and drawer menu.
YouTube Section
Show videos on your YouTube channel or playlists.
Six different layout options.
Facebook Section
Show your Facebook posts.
Four different layout options.
Instagram Section
Show your Instagram photos.
Three different layout options.
Zooming & scrolling in fullscreen.
Set as wallpaper
Twitter Section
Show tweets from any user in your mobile application.
Four different layout options.
Flickr Section
Show pictures from any Flickr album or gallery.
Three different layout options.
Zooming & scrolling in fullscreen.
Set as wallpaper
Tumblr Section
Show pictures from any Tumblr user.
Three different layout options.
Zooming & scrolling in fullscreen.
Set as wallpaper
Contact Form Section
You can add a contact form to your mobile application so that your users can contact you. The mobile app will send you the information collected from the user in the contact form via email.
Offline Page Section
Add static text and photos to your application.
Demo Application
This demo app was created by Android App Builder:
android_app_builder_release.apk
If you don't know how to install an apk file, you can learn from this article:
How to sideload an APK or install an Android app from outside the Play Store
You can also try the demo apk with Android emulator:
appetize.io/upload
Changelog

V.1.2.4
- Added ability to play HTML5 video in fullscreen.
- Some minor bugs have been fixed.
V.1.2.3
- Some minor improvements have been made.
V.1.2.2
- WordPress Page Section added.
- Some minor improvements have been made.
V.1.2.1
- International character encoding related bug has been fixed.
- The bug with the use of special characters has been fixed.
V.1.2
- Added splash screen.
- Added the 'Rate This App' option.
- Added possibility to change the version name and code.
- Onesignal-related bug has been fixed.
V.1.1.1
- Added parametric URL handling to web page section.
- Added show/hide action bar and drawer menu option to web page section.
- Added HTML 5 geolocation support to web page section.
V.1.1
- Added signed APK generation functionality
- Added ability to install on emulator or device
- Added ability to create new key store
- Added emulator listing and launch function
- Upgraded to Gradle 5.4.1 to compability for Android Studio 3.5
- Upgraded to Android Gradle Plugin 3.5.0 to compability for Android Studio 3.5
V.1.0.3
- Some minor bugs have been fixed
V.1.0.2
- upgraded to Gradle 5.1.1 to compatibility Android Studio 3.4.x
V.1.0.1
Initial Release

Source