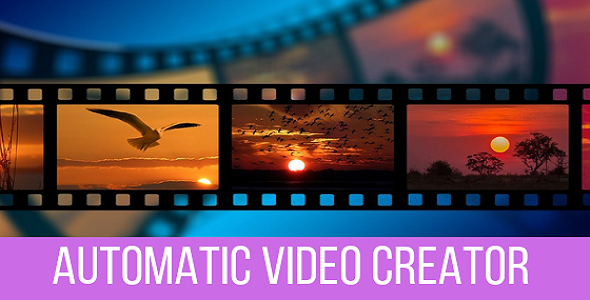 What Can You Do With This Plugin?
Automatic Video Creator Plugin for WordPress is a tool which allows you to automatically create videos from images posted on your blog.
Plugin features:
Automatically create videos from images and audio embedded in post's content
Automatically attach and embed generated video to published post's content
Automatically remove images that were used in the video, from post's content
Add text to generated videos
Ability to define a default starting and ending image for videos
Define default images or audio for generated videos
Detailed plugin activity logging
Create a Movie, Film, Clip, Slideshow, Presentation or Music video
Process automatically fires at post publishing
Testing this plugin:
You can test the plugin's functionality using the 'Test Site Generator'. Here you can try the plugin's full functionality. Note that the generated testing blog will be deleted automatically after 24 hours.
Plugin Requirements:

FFMPEG installed on server
PHP 5.4 or higher
allow_url_fopen enabled
allow_url_include enabled
Bonus Features

The plugin can be combined with other plugins I created, to expand it's functionality. Here are the possible combination variants:
automatically upload videos to YouTube – Youtubomatic
live stream videos to YouTube – YouLive
automatically upload videos to Vimeo – Vimeomatic
automatically upload videos to Twitch – Twitchomatic
automatically upload videos to DailyMotion – DMomatic
automatically upload videos to Facebook – FBomatic
automatically live stream videos to Facebook – FaceLive
Video Tutorial:

Need support?
Please check our knowledge base, it may have the answer to your question or a solution for your issue. If not, just email me at support@coderevolution.ro and I will respond as soon as I can.
Changelog:
Version 1.0 Release Date 2019-09-03
First version released!
Version 1.0.1 Release Date 2019-11-15
WordPress 5.3 compatibility update
Are you already a customer?
If you already bought this and you have tried it out, please contact me in the item's comment section and give me feedback, so I can make it a better WordPress plugin!

WordPress 5.3 Tested!


More of our work
Do you like our work and want more of it?
Check out this MEGA plugin bundle or this SOCIAL plugin bundle or this VIDEO plugin bundle.
Source