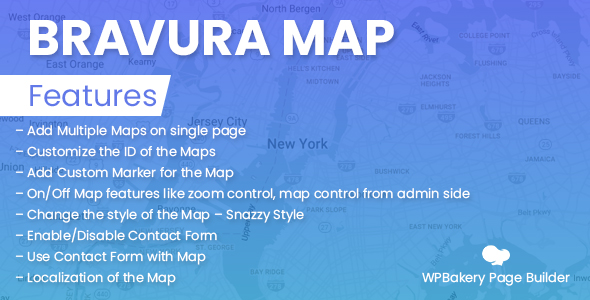 Bravura Map cum Contact Form Addon for WPBakery Page Builder allows you to create a map for the location you prescribed as a latitude and longitude. You can change the styling of the Map by enabling the snazzy map option. This will take your Map to better level.
Features of Bravura Map
Add Custom Marker for the Map
Enable/Disable Contact Form
Add Multiple Maps on single page
Customize the ID of the Maps
Use Contact Form with Maps
Localization of the Map
On/Off Map features like zoom control, map control from admin side
Change the style of the Map – Snazzy Style
SOME DEMOS (you can create many more)
DEMO -1 – Multiple Map on Single Page
DEMO -2 – Full Width and Snazzy Style
DEMO -2 – Snazzy Mapp wih Contact Form
Installation
Step 1 – Download the Bravura Map Addon from you codecanyon account. You will have bravuramapcumcontactformaddon.zip on your computer.
Step 2 – Open your WordPress admin panel www.yoursite.com/wp-admin and log in with your admin login credentials.
Step 3 – Navigate to Plugins section from the left menu.
Step 4 – Select Add New in the left upper corner.
Step 5 – Select Upload Plugin in the left upper corner.
Step 6 – Upload zip file of Bravura Map plugin.
Step 7 – Choose to upload bravuramapcumcontactformaddon.zip from your computer and click Install Now.
Step 8 – WordPress will now install Bravura Map Addon. After successful installation, you will see an option to activate the plugin. Your plugin is now installed.
Step 9 – Activate WordPress plugin after install
Step 10 – Select Activate Plugin to proceed with the activation process.
Have any Question?
Email: support@elsner.com       Skype: sales.elsner
About Elsner Technologies Pvt. Ltd.
Elsner Technologies is a premier web development and design company in Ahmedabad in Gujarat, India. We specialize in developing professional websites and high end web based applications such as large scale e-Commerce solutions and custom shopping cart development. You may choose from an array of service offerings such as feature rich website design and development, website upgrade and SEO services.
Connect with Us
Source