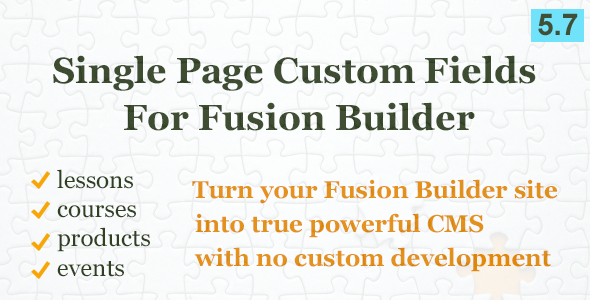 Two plugins Pack discounted offer!

Check out our Pack of two plugins if you want to save money and use all the features we offer to enhance Avada theme with the custom content functionality.
Plugin Description
This plugin adds a new element to the Fusion Builder called Custom Field. This element allows to display a Custom Field in the Page layout. You can display unlimited number of Custom Fields per Page. This also works for any Custom Post Type that you design with the Fusion Builder.
This element has plenty of design options which are similar to the Button element.
Adds the new element to the Fusion Builder – Custom Field that displays selected custom field value at the element position
Builds the list of all configured custom fields to choose from
You can add the text before the custom field value which can be used as a custom field name
Link to internal or external page can be assigned to the custom field value
Many design options are similar to the Button element
Limited ACF support. The element can display any text or number custom field, even if it is created by ACF plugin. Advanced non-text formats may not work properly.
How To Use
Install the plugin
Insert the new Element via Fusion Builder as usual
Choose Custom Field
Configure the options
Save and enjoy
Download the Full version and unzip the file
Choose the included zip file that matches your Avada major version number
Install that zip file as usual
Read the documentation for full instructions and update process
See the Demo how the Custom Field element may look like
See the documentation
Get support. We will reply within one business day
For a limited time we offer additional free support option. Check it out
Plugin works with Avada version starting from 5.5
Refunds

Please read Envato refund policy
If you like our plugin please review it here
Feedback
Source