GOOGLE MARKETING TOOLS – THE BEST MARKETING PLUGING FOR WOOCOMMERCE! OVER 1800 CUSTOMERS WAS USING GOOGLE MARKETING TOOLS DURING YEARS IN ANOTHER PLATFORMS LIKE OPENCART AND PRESTASHOP. NOW WE ARE HAPPY LAUNCHING WOOCOMMERCE VERSION!!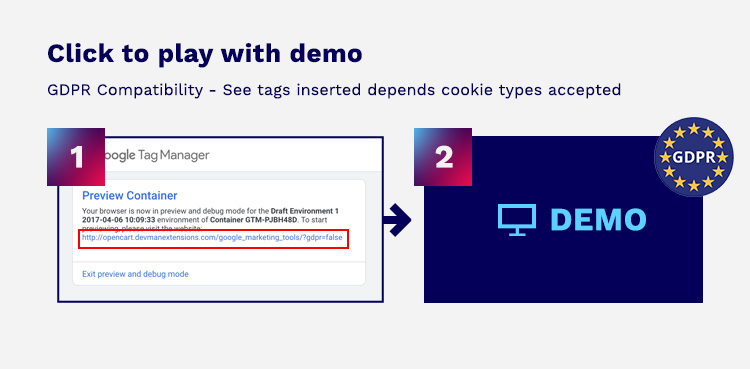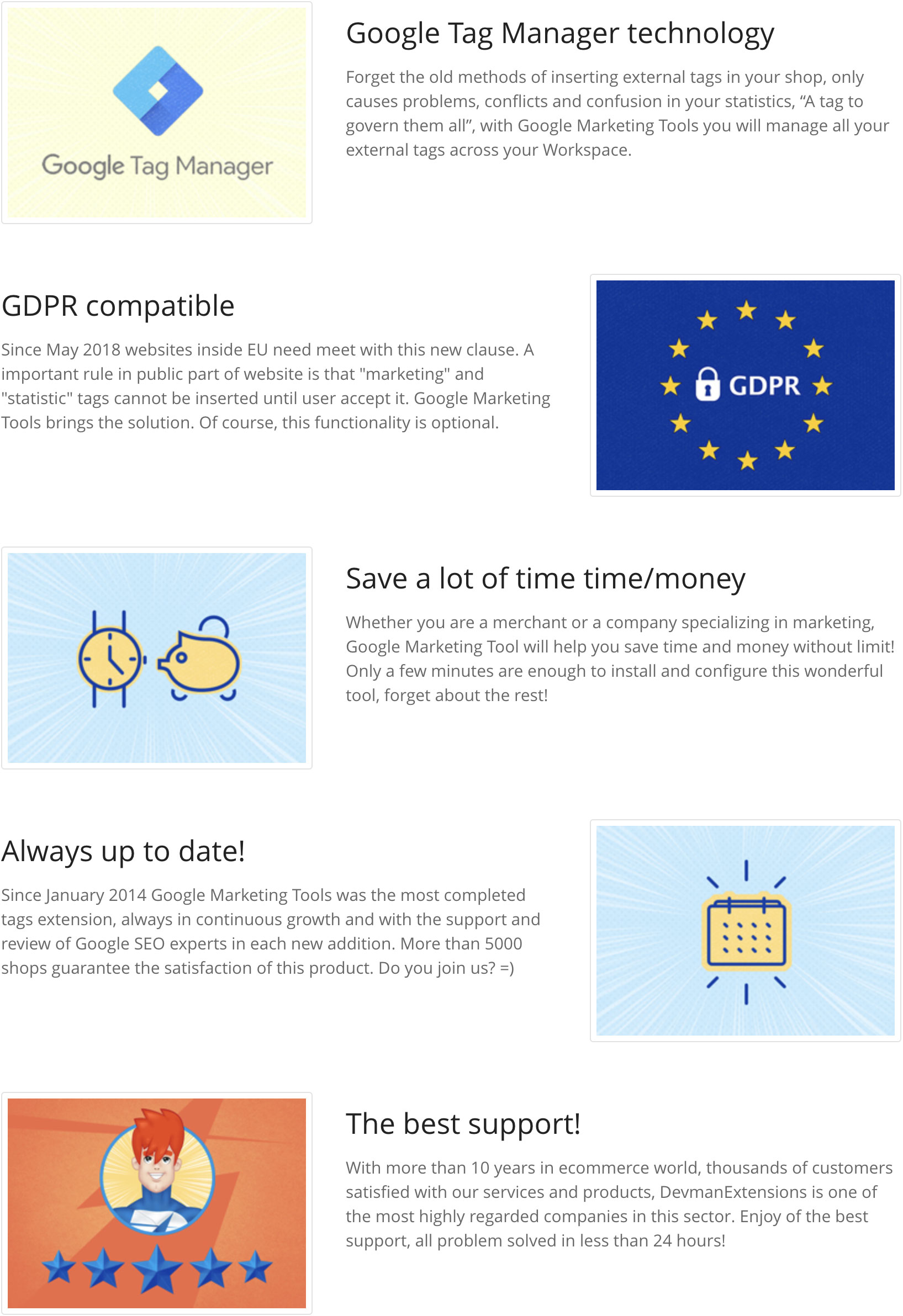 COMPATIBLE WITH GDPR (optional to shops that requires it)
★ Compatible with GDPR (General Data Protection Regulation)
★ Cookie alert bar & button configurate 100% configurable.
★ User can accept "Statistics" or "Marketing" cookies, inserting the corresponding tags in case of consent.
★ Button to show cookies bar configuration after save some cookie configuration.
★ If your country doesn't need it, simply not enable GDPR compatibility!
BENEFITS
★ The perfect "All in One". Discover the most complete Tags extension on Opencart.
★ Super easy install in 1 minute -> VIDEO
★ All tags are inserted in ONE UNIQUE CODE, forget old methods that cause a lot of problems and incompatibilities.
★ Forget purchase 1 extension to each tag that you want add to your store!
★ Include video tutorials.
FEATURES – Full 15 tools in 1 extension
★ Google Tag Manager – Last GTM technology
★ Google Optimize – To A/B testing
★ Google Analytics – Compatible with USER ID | Track pageview | Live events
★ Google Enhanced Ecommerce – Measuring cart events | Product & promotion impressions & clicks | Configure your own multi-channel funnel & more!
★ Google Ads (Adwords) conversions – Complete Conversion Tracking purchases | Negative conversions compatible
★ Google Reviews – Connect with your merchant center | Google Reviews after purchase order
★ Google Reviews Badge – Show Google Reviews Badge in different positions
★ Google Dynamic/Standard remarketing – Compatible with dynx | All views tracked | Set prefix or sufix to ecomm_prodid
★ Google Rich Snippets – Product details | Product user reviews | Validated by Structured Data Testing Tool – Google
★ Facebook Pixel – Track pageview | Add to cart | Add to wish list | Purchases
★ Pinterest Pixel – Full pages tracking | Cart event | Purchases
★ Hotjar Tracking – Full pages tracking
★ Crazyegg Tracking – Full pages tracking
★ Bing Ads conversions – Full pages tracking | Cart event | Purchases
★ Criteo OneTag tracking – Full pages tracking | Purchases
FEED GENERATORS – Multiple configurations
★ Google Merchant Center – Compatible with all countries allowed by Google | Google category taxonomy in all languages | Feed XML example Source