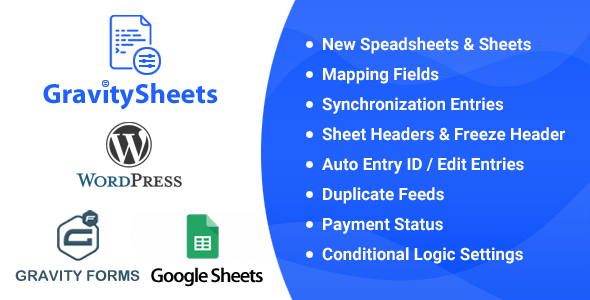 Special 30% Discounts for Limited Time – $18 Now
New Price: $18 | Old Price: $26
GravitySheets Overview
Meet GravitySheets, leading Gravity Forms Addon to makes user to save gravity form entries within one single Google Spreadsheet. User can add any number of forms with any number of spreadsheet with sheet integration. Once forms has been submitted data are going to add within new row into the selected sheets in plugin settings.
User can also synchronize all the existing Gravity Forms entries within the Google Sheet. If user can edit the entries from admin side that can also affected in Google Sheet automatically. User can make duplicate feeds to assign multiple sheets. User can set the conditional logic for the particular fields then all the data will be pass to google sheet as per the condition match other wise no entry will be added.
Payment Status features option only visible whenever your form will have credit cards fields added. If it will be enable then entries will only added whenever payment is paid/approved otherwise all the entries will be added within the google spreadsheet.
GravitySheets, you get professional 24/7 support and extensive Documentation.
The plugin has compliant with PHP 7.x, WordPress 5.2.x and Gravity Forms v2.4.x.
GravitySheets Features
Change log


Version 1.2 (21 May 2019)
------------------------------------------------------------------------------------
- Add Freeze Header Feature

Version 1.1 (24 September 2018)
------------------------------------------------------------------------------------
- Remove default token.json files
- Add AJAX loader within Click to Sync button

Version 1.0 (18 September 2018)
------------------------------------------------------------------------------------
- Initial Version


Source