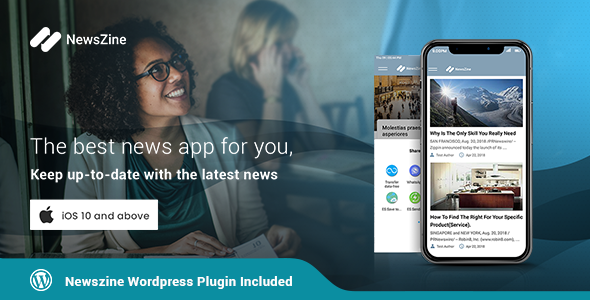 Have you ever thought about turning your blog into an iOS app? Newszine application comes with a pre-built WordPress plug-in with which you can simply convert your existing blog into an iOS App. You don't need any programming or coding skills, use Newszine WordPress plug-in to quickly convert your WordPress blog into an iOS App.
Newszine App is a fully customisable Magazine application that
allows you to show magazine articles on iOS mobile devices at
anywhere and anytime! It helps you to create an iOS application for
your own magazine articles and thus saves you a lot of time and
money. This application was developed with Xcode 9 IDE and Xcode
9 tools in such a way as to allow you to fully customize it to your own
taste / rebrand it for whatever purposes you'd like to use it for.
CURRENT FEATURES
Full Native iOS Application
Supports 10.0 & Up
Full Customisation of App Name, Logo, Splash Screen, Icon and
Notification Banner
Option To Show Articles From API
Can view articles in offline mode also.
High quality user interface
Push notification
Easy customisation
Well documented
Feature to change font size for reading
Easy navigation to previous & next article
Swipe to change article
Support for Submitting Feedback
Pull down for refreshing the article
Option for changing the language.
Image viewer for viewing image
Youtube player for playing video.
Share App feature.• Option for sharing the articles.
Option for sending feedback
Wish To Customize
Customization Features
AdMob Feature
Google Analytics
Favorite Mode.
User account Module
for customization, please contact us at store@webandcrafts.com
Source