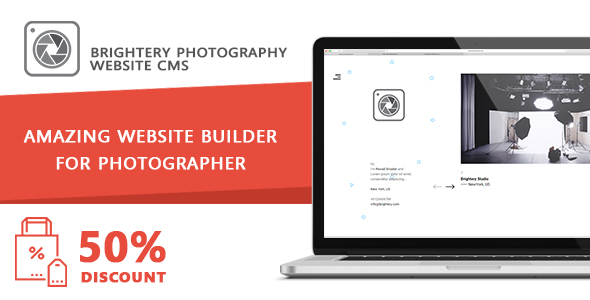 Professional Photographer
Professional Photographer CMS By brightery, Only if you're a professional photographer or famous photographers? You need a Photography portfolio to brand your photos and make them all in one place. Get one of best photography websites with our professional photographer CMS
professional photographer CMS Features:
The cost of the website you need which may start from $ 1000!
Problems of Hacking and the weakness of WordPress CMS in front of the evolution of hackers daily.
Your cloud hosting, And the need to server administrator.
Facebook Ads getting higher rates and your fans doesn't reach your updated photos easily.
Instagram Ads getting higher rates Also.
Having no website making you less important.
Less archiving from Search Engines.
And more things…
What else Brightery Photographer CMS offer?!
We now offer you a full integrated website that you can give you more visits and customers daily who can see your photographs and let you make easier money with less cost than creating a new website for your self and pay more than 1K of dollars waiting for your incoming website to be released.
What is Brightery professional Photographer CMS?
Brightery professional Photographer is an amazing PHP custom software built with to fit all types of photographers.
What types of photographer can use this CMS?
real estate photography, professional photographer, portrait photography, wedding photography, famous photographers, landscape photography and more..
and make an easier website in less time, So you can have your own website in just 10 minutes as total without learning code at all.
You can also ask Brightery team to build you another theme and apply it on your website and that's not gonna cost you.
You also could ask for edits on Brightery Photographer website CMS to add new features to your Brightery Photographer website CMS easily and it won't cost you!!
Features:
Easy to use
Simple to install (No coding knowledge needed).
Attractive interface you could change if you want.
Categories, could be Edit, added and deleted.
Photos with different qualities.
Photo albums could be added.
About You page with many features.
Year you started
Clients you have.
Viewers of your photos.
Categories.
Sessions.
Images uploaded.
Portfolio with categorized navbars and items.
Images with details.
Contact forms to make clients reach you
Social itegration and (Facebook or Instagram) itegration.
Personal information and easy to change.
Easy Dashboard.
Dashboard Analytics for visitors and views.
More than moderator and admin could be added.
Search Engine optimization tools.
Sliders and Content edit.
No coding knowledge needed.
And updates coming up with more features.
Limited OFFER:
Special offer for the first 100 Sales, You can get the all script and free support untill 3 Months from purchase With less 50%. LIMITED OFFER!
Brightery
brightery is one of the best web development companies in the field of Technologies, systems and mobile applications, Looking for the latest technologies and stratigies. Brightery competes in all areas of digital industry and is one of the strongest companies in the industry of online marketers tools programming since 2016 and achieved great sales then.
Brightery now has more than 6 branches around the world in more than 4 countries and we are still working on with many partnerships with the world's most powerful technology companies and many partnerships with marketers who market our products or services online and you can also be one of them by contacting us:
Partnerships@brightery.com
Don't hesitate to contact us if you have inquiry or suggestions, and support at: support [at] brightery.com
Access information:
URL: https://demo.brightery.com/bpwcms/admin
Username: admin@admin.com
Password: 123456
Best regards, Brightery Team
Get more from Brightery:
Get more product from Brightery The best Marketing and web solutions company with the best prices ever.
NEW UPDATE V1.4
UPDATE DATE: December 9, 2018
Reported Bugs fixed
New Year's Sale
New Features added
NEW UPDATE V1.3
UPDATE DATE: November 15, 2018
New Freatures released
BUGS reported fixed
New Affiliates Feature
Flash SALE
Source