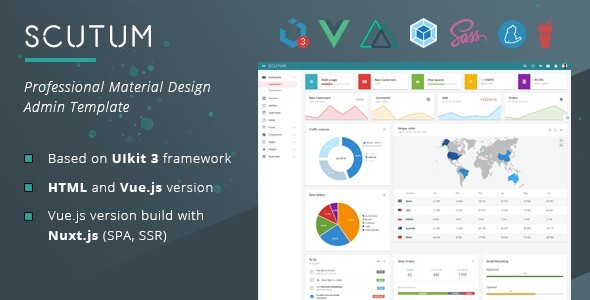 Scutum Admin is a professional HTML5/CSS3 Material Design template based on UIkit Framework (v3).
It comes with 2 versions: HTML and VueJS that can be used to build any backend application: shop backend, analytics backend, CMS, CRM etc.
HTML version source code is build with the help of PHP language (includes, simple functions and helpers).
VueJS version is based on Nuxt.js framework, universal mode (SSR + SPA) is set as default but can easily be switched to SPA mode.
Latest update
v2.0.0 (04.07.2019)

== New Features
  [new][html/vue] CKEditor WYSIWYG editor
  [new][html] TinyMCE WYSIWYG editor
  [new][html/vue] Footer component
  [new][html/vue] Scrollable component
  [new][html/vue] Grid menu component
  [new][html/vue] Labels in side menu
  [new][vue] Laravel integration
  [new][vue] Quill WYSIWYG editor
  [new][vue] Card component (ScCard, ScCardHeader, ScCardBody, ...)
  [new][vue] Transition component (ScTransition)
  [new][vue] Progress component (ScProgress, ScProgressCircular)
  [new][vue] v-visible directive
  [new][vue] es6 utils (scDom, scColors, ScHelpers, ScMq etc.;'~/assets/js/utils')

== Components/Pages Update
  [update][html/vue] UIkit Icons
  [update][html] Mailbox page (added handlebars templates, fixed single message)
  [update][vue][BREAKING] Removed jQuery from code and components (vue way)
  [update][vue][BREAKING] added 'vx' prefix for Vuex states
  [update][vue][BREAKING] added 'Sc' prefix for Photo, Avatar, AvatarInitials, Colorpicker components
  [update][vue] added '~scss' alias (scss @import)

== Bugs
  [bug][html/vue] Fixed select2 in modal
  [bug] Minor css/js fixes

== Dependency Upgrades
  [dep_update][html/vue] "@mdi/font": "^3.7.95" 
  [dep_update][html/vue] "billboard.js": "^1.9.5" 
  [dep_update][html/vue] "codemirror": "^5.48.0" 
  [dep_update][html/vue] "driver.js": "^0.9.7" 
  [dep_update][html/vue] "flatpickr": "^4.6.1" 
  [dep_update][html/vue] "inputmask": "^4.0.8" 
  [dep_update][html/vue] "jquery": "^3.4.1" 
  [dep_update][html/vue] "jquery.fancytree": "^2.31.0" 
  [dep_update][html/vue] "perfect-scrollbar": "^1.4.0" 
  [dep_update][html/vue] "select2": "^4.0.7" 
  [dep_update][html/vue] "tui-calendar": "^1.12.1" 
  [dep_update][html/vue][BREAKING] "tui-grid": "^4.0.2" (removed Backbone and jQuery dependencies)
  [dep_update][html/vue] "uikit": "^3.1.6" 
  [dep_update][html] "handlebars": "^4.1.2" 
  [dep_update][html] "parsleyjs": "^2.9.1" 
  [dep_update][vue] "@nuxtjs/axios": "^5.5.4" 
  [dep_update][vue] "node-sass": "^4.12.0" 
  [dep_update][vue] "nuxt": "^2.8.1" 
  [dep_update][vue] "vue-cropperjs": "^4.0.0" 

  [devDep_update][html/vue] "gulp-load-plugins": "^2.0.0" 
  [devDep_update][html] "browser-sync": "^2.26.7" 
  [devDep_update][html] "del": "^5.0.0" 
  [devDep_update][html] "glob": "^7.1.4" 
  [devDep_update][html] "gulp-autoprefixer": "^6.1.0" 
  [devDep_update][html] "gulp-changed": "^4.0.0" 
  [devDep_update][html] "gulp-clean-css": "^4.2.0" 
  [devDep_update][html] "gulp-inline-fonts": "^1.2.1" 
  [devDep_update][vue] "babel-eslint": "^10.0.2" 
  [devDep_update][vue] "eslint-config-prettier": "^5.0.0" 
  [devDep_update][vue] "eslint-plugin-prettier": "3.1.0" 
  [devDep_update][vue] "eslint-plugin-vue": "^5.2.3" 
  [devDep_update][vue] "gulp-inline-fonts": "^1.2.1" 
  [devDep_update][vue] "gulp-rename": "^1.4.0" 

== Other
[vue] Removed 'scutum-spa' and 'scutum-universal' pregenerated aps from package

Features
Material Design/Material Design 2
HTML and VueJS version
Based on UIkit 3 framework
VueJS version based on Nuxt.js (integrated vuex, axios, ssr etc.)
Responsive layout
Easily customizable (SASS files)
Async loader (CSS/JS) in HTML version
More than 80 pages
Custom Pages

Mailbox
Notes
Task Board
Chat
POI Listing
Contact List
and more…

Custom Components

Accordions
Dropdowns
Dynamic Grid
Filters
Lightbox/Modal
Sortable
Notifications
Preloaders
Tabs
Timeline
and many more…

Integrated charting libraries:
Integrated plugins:

Calendar
Data Grid
Datatables
Gantt Chart
Image Croper
Google Maps
Vector Maps
and many more…
Changelog
v1.0.0 (09.04.2019)

Initial release

v1.0.1 (10.04.2019)

[bug] Fixed Vue.js build folders
[bug] Added missing manifest.json
[bug] Minor css/js fixes

Source