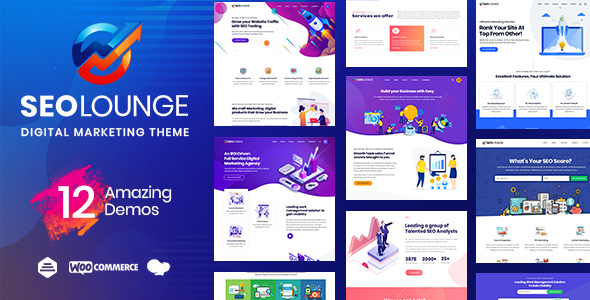 SEOLounge WordPress Theme for Top SEO and Digital Marketing Agencies
SEO Lounge is responsive, fast theme for SEO and Digital Marketing Companies. This theme works best for any SEO, Online Marketing Company, Reputation Management, Social media marketing agency.
SEOLounge SEO Agency WordPress Theme
Requirement
To work with SEOLounge, please ensure that you are running WordPress 4.7 or higher, PHP 5.6 or higher, and MySQL 5.6 or higher. We have tested it with Mac, Windows and Linux. For better hosting experience, we recommend using https://wordpress.org/hosting/.
Frequently Asked Questions
Please read support related frequently asked questions at https://themeforest.net/item/seolounge-seo-agency-wordpress-theme/22388988/support . Click on Show more to read all FAQs.
Recommended PHP Configuration Limits
Various issues that you may run into are: white screen, your demo import fails, empty page content and other similar issues which are all related to low PHP configuration limits. The best way is to increase the PHP limits of hosting account.
max_execution_time 300

memory_limit 128M

post_max_size 32M

upload_max_filesize 32M
Changelog
April 26, 2019

    - Add Demo 11 and 12
    - Reduced requests for all demos by combining different css files for wpbakery elements
    - Added gradient support in color option.


April 04, 2019

    - Small bug fix
    - Radiantthemes addon is now translation ready


February 26, 2019

    - Performance Improvement
    - 3 new demos added


January 14, 2019

    - Performance Improvement
    - Request from Google font loading reduced. 


Version 1.1.3 – November 14, 2018

    - Updated: Redux Framework Plugin
    - Updated: WPBakery Page Builder 5.5.5 Plugin
    - Fixed: Responsive Mega Menu Issue

Version 1.1.2 – October 30, 2018

     - Added: New Demo 7 Introduced
     - Added: New Header Style Thirteen
     - Added: Demo WooCommerce Products Added
     - Changed: Blog Style Six Has Been Changed
     - Fixed: Social Links Same Page Opening

Version 1.1.1 – October 23, 2018

    - Demo Import Process Improved
    - On Demo 6, CTA form email functionality added.

Version 1.1.0 – October 09, 2018

    - Added: New demo added with SEOLounge
    - Fixed: Popup video issue fixed

Version 1.0.3 – September 21, 2018

- Updated header styles - logo vertical alignment issue fixed.

Version 1.0.2 – September 14, 2018

- Updated WP Bakery to latest version.
- Fixed Blog list view appearance issue.
- Added missing hyperlink feature in few Fancy text box element options.

Version 1.0.1 – August 30, 2018

    - Fixed 504 demo import message.

Version 1.0.0 – August 1, 2018

    - Initial Release of SEOLounge.

Source