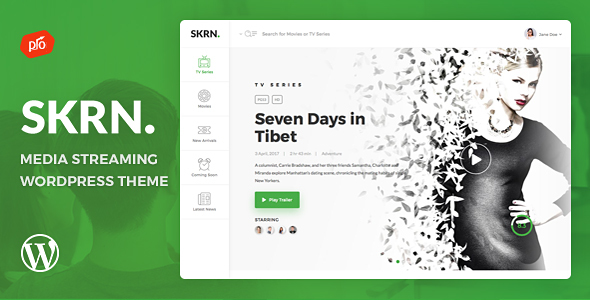 Show off your work with this easy-to-customize and full-featured WordPress Theme. When purchasing this theme, you will receive a detailed help file along with additional features like a eCommerce Membership Platform, Video Player and Drag & Drop Page Builder.
User Demo Login
We have a demo account setup. Username: demo and Password: demo
Key Features
ARMember Membership Plugin Included – a One Stop Solution to sell WordPress subscriptions, user registration plugin, user profiles and lot more without having any knowledge of programming
Boosted Elements Add-on Included – Easily create sliders, maps, popups & more with this premium plugin
Drag & Drop Page Builder – Easily build your website using a drag & drop page builder
Restricted Pages/Content – Easily restrict access to pages or the entire site with the built-in membership tools.
Video Player Included – This theme has a built-in Video Player that supports locally hosted videos, Youtube, & Vimeo
Favorites & Watchlist – Users are able to add videos to their watchlist and favorite videos.
Video Rating System – Users can add ratings as well as detailed reviews
Advanced Search – SKRN includes a custom search engine to easily find videos.
Responsive Layout – Ensuring your website looks great on any device from mobile to desktop
Retina Support – This template is optimized for high resolution displays like the Macbook Pro with Retina Display, iPhones and iPads
Search Engine Optimized – This template is optimized for SEO using the latest coding standards
Photoshop Files Included – This template includes photoshop files for each page
Top Notch Support – We provide detailed documentation & support for all of our items
Additional Membership Features
Multiple payment gateways accepted (PayPal, Stripe, Authorize.net, 2Checkout, Bank Transfer)
Unlimited plans with optional trial periods
Easy member management with custom login/registration forms
Content restriction flexibility
Periodic billing
Drip content facility
Social Networks login/connect
Member profiles
Exclusive coupon management
Opt-ins (email marketers)
Built in modal form support
Developer friendly API
Check out this other Streaming Theme by Progression Studios
Theme Updates
Version 2.3 – 29 April 2019
Updated FontAwesome Icon List
Version 2.2 – 4 April 2019
-Fix Season 2+ video pop-up

File Updated:
/template-parts/season-episodes.php
Version 2.1 – 27 March 2019
-Updated ARMember Membership Plugin

File Updated:
/Additional Files/Plugins/armember.zip
Version 2.0 – 28 Feb 2019
- Season Support Added to Video Posts!
- Faster Loading of Login Box
- Updated Meta-boxes Layout + Tabbed Layouts
- Progression Elements Plugin
- ARMember Plugin Update
- Boosted Elements Plugin Update
- Updated Language Files

Files Updated:
single-video_skrn.php
/template-parts/season-episodes.php
/inc/js-customizer.php
style.css section 25. VIDEO POST HEADER STYLES
Progression Elements Plugin

VERSION 1.9 – 2 JAN 2019
Minor Theme Maintenace
Custom Filters for Embedded Videos Added

Updated Files:
/inc/template-tags.php
single-video_skrn.php
/template-parts/content.php
/template-parts/content-single.php
VERSION 1.8 – 14 DEC 2018

Updated Boosted Elements Plugin
Updated Progression Elements Plugin (Updated Custom Meta Support)

Files Updated:
/inc/tgm-plugin-activation/plugins/boosted-elements-progression.zip
/inc/tgm-plugin-activation/plugins/progression-elements-skrn.zip

VERSION 1.7 – 11 DEC 2018
Updated Date Translation

Updated Files:
single-video_skrn.php
/template-parts/content-slider.php

VERSION 1.6 – 7 DEC 2018

Updated ARMember Plugin
Updated Boosted Elements Plugin

Version 1.5 – 10 November 2018
Slider Update: Added ability to change play link on slider to any page in addition to the video player.

Updated Files: 
content-slider.php
Version 1.4 – 28 September 2018
Mobile Column Display Fix
Boosted Elements Plugin update
Version 1.3 – 11 September 2018
Updated style.css file
Fixed issue with mobile column count being overridden.
Version 1.2 – 23 August 2018

Updated language file
Updated comments sidebar file
Updated afterglow player to fix Chrome bug

Files updated:
/js/afterglow.min.js
/template-parts/comments/comments-sidebar.php
/languages/skrn-progression.pot

VERSION 1.1 – 13 AUGUST 2018

-Boosted Elements Plugin Update
-Fixed Post Filtering when selecting custom taxonomies (Update Progression Elements plugin)
-Adjusted Mobile Display on Video Post Page
-Added optional header image even when no video is present

Version 1.0

Initial Release

Source