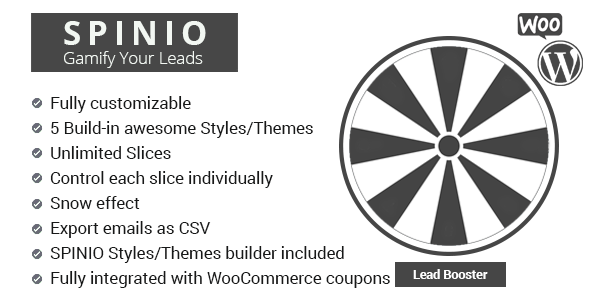 Looking to Mine GOLD then You are at right place. YES! Your Customers are more valuable than GOLD. Don't Let them go by just visiting your Blog/Store. SPINIO will convert your visitor into loyal customer and subscribers in interactive and creative
way which is totally controlled by you.
SHOW your customers CARE and LOVE by giving them discount COUPONS. SPINIO will help you decide what to give them and what to not give them.
SPINIO is Great Marketing Tool. It uses fortune wheel in a very visionary way that grab your visitor's email to make him/her a customer and subscriber. So Engaging your customer was not easy before SPINIO. let your customer excite by gamify your LEADS.
SPINIO Gives you ability to control everything! Yahoooo……
5 Awesome Themes
Christmas
Classic
Choco
Candy
Color Full
Top 10 Features
Fully customizable
6 Build-in awesome Styles/Themes
Unlimited Slices
Control each slice individually
Snow effect
Export emails as CSV
SPINIO Styles/Themes builder included
Fully integrated with WooCommerce coupons
Enable/disable Name field
Responsive across all devices
Advantages Of Using SPINIO
BOOST your Store SALE Upto 200% ! Dramatically increase youe Leads . Improve overall Conversion rate in interactive way by giving them discount and coupons. Customer are fed up due to ugly popups, Let the SPINIO gamify your Leads to save your customers.
Creative way to interact with your customers that makes them feel special. Collecting their name and email before leaving site for your up coming product and Remarketing. let The door open to come customers back Much More...
As simple as 1, 2, 3
Step 1
Step 2
Step 3
Results can be

Source