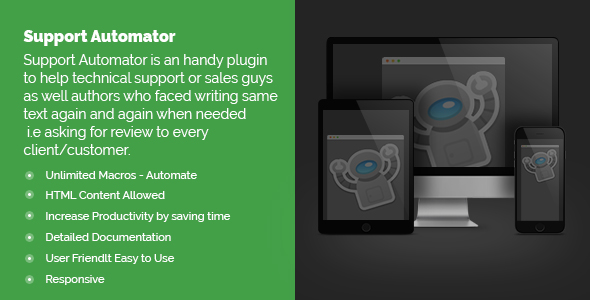 Are you tired of writing same things again and again? Upgrade to support automator and automate yourself by saving time.
What is Support Automator
Support Automator is an handy plugin to help technical support or sales guys as well authors who faced writing same text again and again when needed. i.e asking for review to every client/customer.
Support Automator is a time saving plugin which stored all your simple or html content in separate block and call it any where in page or post. So you don't need to write again and again same thing.
Usage of Support Automator
If you are a technical support or sales guy then you faced same things from each customer i.e i would like to know about your product and you wrote again and again same text or features to every client which getting tired and bored.
Support & Help Desk Plugins Supported
Support Automator is compatible with all support and help desk plugins such as
1-Awesome Support – WordPress HelpDesk & Support Plugin
2-JS Support Ticket
3-KB Support – WordPress Help Desk, Support & Knowledge Base plugin
4-Best Customer Customer Service Software & Support Ticket System for WordPress
5-Catchers Helpdesk and Ticket system for Support
Video Tutorial

Source