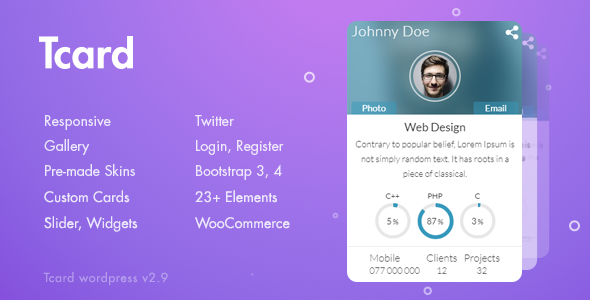 Tcard WP is a plugin that lets you add beautiful cards to your website. You can pick from one of the 6 pre-made cards, each with 60 color variations or create your own custom design. The cards are build to allow easy customizations and work flawlessly in all the modern web browsers.
Tcard WP lets you build any type of card with over 23 elements. Tcard WP can be used like widget in sidebar or footer. The plugin have elements like gallery, twitter profile, slider that let you to build a nice profile section or any type of section. By add post element into skin, you can display how many posts you want into page from different categories
With Tcard it's easy to create forums like contact / register / login and can be used anywhere in the page. Gallery can be managed by the administrator or by the user assigned to the gallery.
Features List:
Bootstrap 4
Bootstrap 3
6 Skin
Custom Skin
Drag and drop elements
Fully responsive
Mobile ready
Widget
Display posts by: Category,Order by,Order
Gallery
Group Galleries
Individual Gallery
Ajax Gallery / The user can manage their own gallery
Over 23 elements
Twitter profile
Twitter feed
Slider
Custom Login
Custom Register
Custom Contact
Login/Register/Contact can be used anywhere in your website
Group Settings
Skin Settings
Different settings on front or back
Different colors on front or back
Hover Animation
Button Animation
Flip Animation
Rotate Animation
Turn on/off – Flip/Rotate Animations
Count number
Skills
Multiple groups on the same page
Scroll Animations
Multicolor
Cubic Bezier transition timing
Multiline Ellipsis Text
Unlimited number of card
Adjustable speed, animations delay
Easy to Configure
Clean documentation with examples
Constant support
By implementing Arcfilter in Tcard WP, the plugins working together to help you creating a portfolio page with custom cards from Tcard or posts. Arcfilter provide four style type for menus and items or you can choose Custom style and build your own style, works in all modern browsers and touch devices.
You can choose how to display items by selecting Load More,Scroll or Pagination. Using the pushState method with ajax option selected can manipulate the browser's history for SEO.
Features List:
Display Items:
Type of display:

None(will show only how many items you want to be displayed)
Load More
Scroll
Pagination

WooCommerce: filter by

Categories
Price
Attributes
Tags

Each category can have its own style
More than 30 animations
Touch devices
4 Style
SEO-friendly
Group Settings
Items Settings
Multiple groups on the same page
Scroll Animations
Unlimited number of items
Adjustable speed, animations delay
Easy to Configure
Clean documentation with examples
Constant support
Change log


Tcard v2.9.0
Change:
-Bug Fixed : During the uninstall process, table for filter it did not erase.

Tcard v2.8.9
Change:
-Update : code for WP Requirements.

Tcard v2.8.8
Change:
-Bug Fixed: in filter > .js > orderItems function

Tcard v2.8.7
Change:
– Bug Fixed: in woocommerce page exist ? message
– Bug Fixed: wc_sidebar_attribute fixed
– Bug Fixed: gutenberg block
– Bug Fixed: woocommerce categories menu
– Bug Fixed: width nav-filter ul. in css front woocommerce.

Tcard v2.8.6
Change:
– Bug Fixed: admin - arcfilter
– Bug Fixed: settings - arcfilter
– Bug Fixed: dashboard - admin - tcard

Tcard v2.8.5
Change:
– Bug Fixed: image button in header.
– Bug Fixed: image button width in front.
– Bug Fixed: tcardOn option.
– Add New: image button in footer.

Tcard v2.8.4
Change:
– Bug Fixed: gutenberg > blocks > icon

Tcard v2.8.3
Change:
– Add New: Gutenberg Optimized: add category(Tcard, Arcfilter) and blocks(shortcode Tcard -> groups and shortcode Arcfilter->groups) into Gutenberg:

Tcard v2.8.2
Change:
– Bug Fixed: tcard > front gallery

Tcard v2.8.1
Change:
– Add New: Button in header.
– Bug Fixed: attributes > js function in woocommerce front.
– Bug Fixed: attribute checked > css class in  woocommerce front.

Tcard v2.8.0
Change:
– Add New: WooCommerce

Tcard v2.5.3
Change:
– Bug Fixed: container height on window resize in Arcfilter.

Tcard v2.5.2
Change:
– Bug Fixed:  css front category-menu in Arcfilter.
– Bug Fixed:  update post number in category in Arcfilter.
– Bug Fixed:  documentation link in Arcfilter.

Tcard v2.5.0
Change:
– Bug Fixed:  in js calculate height of card.
– Bug Fixed:  font settings.
Add new:
– arcfilter into tcard.

Tcard v2.0.4
Change:
– Bug Fixed: slider element in front on window resize
– Bug Fixed: in admin menu settings
– Bug Fixed: twitter profile and feed urls for images and link

Tcard v2.0.3
Change:
– Bug Fixed: option Tcard on
– Bug Fixed: settings background repeat
– Add: font settings

Tcard v2.0.2
Change:
– Bug Fixed: skin -  settings flip on axi X
– Bug Fixed: footer elements
– Rework: list element
– Rework: info_list element
– Bug Fixed: skin - settings turn off/on Overlay > Frostedglass

Tcard v2.0.1
Change:
– Bug Fixed: gallery front in sidebar for thumbnail
– Bug Fixed: widget front style 
– Bug Fixed: tcard-front and tcard-back css class in tcard-admin.css
– Bug Fixed: .tcard a img removed shadow in front end css

Tcard v2.0.0
Change:
– Settings: reworked  (after copy new version of tcard Deactivate and Activate the plugin. To see all new settings look at first pictures from Screenshots)
– Bug Fixed: admin_skin function
– Bug Fixed: add mainelement function in tcard-admin.js

Tcard v1.8.3
Change:
– Bug fixed: clone skin

Tcard v1.8.2
Change:
– Bug fixed: for css class in front end. Some classes did not have all the prefixes

Tcard v1.8.1
Change:
– Bug fixed: output col-* in front for skin 5

Tcard v1.8
Change:
- Rework: element: contact
- Rework: element: social_list
- Rework: element: register
- Rework: element: social_button

Tcard v1.7.7
Change:
- File fixed: change TcardTables.php
- Bug fixed: unexpected output during activation.

Tcard v1.7.6
Change:
- Bug fixed: for create a new group function in admin

Tcard v1.7.5
Change:
- Bug fixed: debug for all elements and settings

Tcard v1.7
Change:
- Bug fixed: for create_elements function in admin
Add new:
- Widget
- Update Documentation (widget page)

Tcard v1.6.1
Changes:
- Bug fixed: menu settings for pre-made skins

Tcard v1.6
Changes:
- Bug fixed: option for bootstrap versions
- Bug fixed: Some issues on scroll window for checkTcardView function
Add new:
- Element: post

Tcard v1.4
Change:
- Bug fixed: Some issues with add new slide in slider element
Add new:
- Option: support bootstrap v3+
- Function: clone custom skin

Tcard v1.3
Changes:
- Bug fixed: gallery for mobile 
- Bug fixed: sortable function
Add new:
- Element: twitter profile
- Element: twitter feed
- Element: slider

Source