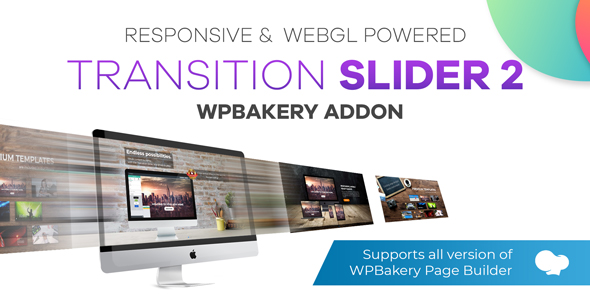 Please note that this is an addon plugin to integrate two plugins, Transition Slider for WordPress and WPBakery Page Builder. It requires both WPBakery Page Builder and Transition Slider for WordPress installed in order to work.
It enables you to add Transition Slider for WordPress to your page using WPBakery Page Builder and override default slider settings. You can override slider size (fixed, responsive or fullscreen), responsive ratio, responsive ratio on mobile and tablet, slider height, slider height and mobile and tablet
Transition Slider is unique innovative slider with beautiful seamless transitions between slides. It brings unique animations that are only possible with WebGL. Showcase your images and videos in your website across all browsers & devices with this unique and most powerful Slider around. No coding required, easy to use and fully customizable.
Awesome Transitions
Bring your website to new level with transition effects only seen in professional videos. Impress visitors with original animations that will catch their attention. Transition Slider is inspired by popular transition packs from Videohive and enables you to use those kind of effects inside your website. Transition include effects like motion blur, radial blur, brightness, and 3D image distortions. Transitions are fully customizable, you can set type, duration, easing, direction, distance and brightness.
Animated Layers
Completely new Layer editor gives you ability to design your slides easily by adding animated elements Text, Button and Image, with advanced settings for each element
Lazy Loading
Slider starts to load when it becomes visible on screen, so you can have multiple sliders on the same oage with fast page loading time. You ca also have slider lower on the page, which will make site load even faster.
High Performance
Slider is rendering only when it is visible in viewport, so you can have multiple full width sliders on the page without problem. This enables you to create rich website with animations, videos and images with high performance.
Slider Templates
Transition Slider includes slider templates for easy start. Choose one of prebuilt templates, then replace images and edit slide elements and your slider is ready.
Touch Slider
Transition Slider has draggable slides, which makes awesome effects even more attractive. You can drag slides with touch or mouse, in both directions
Have your Transition Slider up and running in minutes
Installation is super easy. Once you have downloaded the Transition Slider simply edit it's intuitive options.
TRY IT – Download Transition Slider FREE
Source