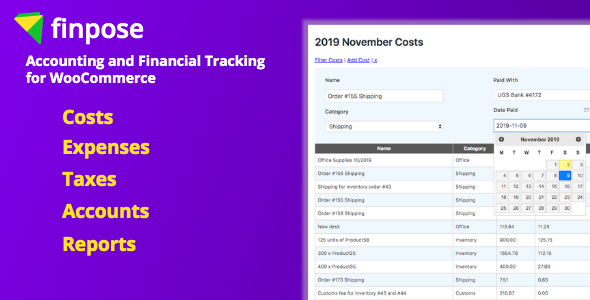 Finpose is a financial tracking solution for WooCommerce store owners. It lets you track your operating costs, expenses, taxes, sales data on monthly basis and compare changes over time. It can also be used as a simple accounting solution for your online store.
Demo Access Notice : After clicking Live Preview button, you need to close Envato frame.
Finpose Documentation : finpose.com/docs
Modules
Costs :
Your costs regarding shipping, inventory, salary, office can be tracked over costs page. You may also filter your costs per month or cost type for later access.
Expenses :
Your expenses regarding contracts, services, online tools, travel can be tracked over expenses page. You may later access previous months expenses by filtering.
Acquisition :
You can track all marketing spendings such as online/offline advertising, affiliate marketing or giveaways over Acquisition page.
Taxes :
You can easily get monthly tax reports (tax payable/tax receivable) over taxes page. For all sales that was completed, tax payable information is automatically retrieved from WooCommerce.
Accounts :
All payments received/made are recorded into chosen accounts, so you are able to track account balances for each month. You can also simulate transfers between accounts to reflect actual balance for each account. Default payment gateways for your online store can easily be added as accounts with a single click.
Time Reports :
Get a monthly summary of store financials covering all payments made/received. Based on differences, Profit & Loss (P/L) and Average Order Value (AOV) is presented to you automatically. You can easily compare and see changes for each month.
Product Reports :
How each product you list on your store is doing financially? Are they profitable? Product based reporting provides you financial insights for each product listed on your store. You can easily find valuable information such as number of items sold, order totals, profit&loss in addition to standard spendings data on a given timeframe.
Benefits
Can be used to track and cut unnecessary spendings
Can help maximizing sales by focusing on best performing products
Provides simple accounting functionality
Provides archiving functionality, so you can access financial information for previous months
Key Features
Access Limit :
Finpose is only accessible by following defined user roles (Super Administrator / Shop Manager)
Light weight & Easy to use
AJAX submits :
Most forms are submitted without a page reload, so you can quickly add your costs, expenses…etc. back to back.
Integrated with WooCommerce :
Orders, taxes and shipping values are automatically reflected on related pages.
Contact Us
You can contact us anytime over plugin website
Source