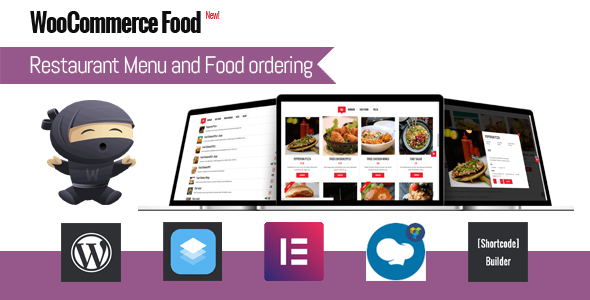 Latest Version 1.0.2 – 15 January 2019 view changelog

Compatible with WordPress 4.9 / 5.3+
If you own a restaurant, café or food service business, WooCommerce Food is a must-have plugin. Designed to make ordering menu items seamless and hassle-free, WooCommerce Food is the simplest way for your business to display food items and for your customers to order. With the intelligent WooCommerce plugin, you can use a lot of payment gateways and manage everything from showcasing your menu to receiving and processing orders all from one handy place. For your customers this means a straightforward way to place an order and the very best user experience, ensuring they'll be back – again and again.
Features list
10+ Food Styles support
Online Food ordering and manager via pro system of WooCommerce
Quick ordering food support
Fully responsive and mobile ready.
Display menu via shortcode anywhere.
Support with many columns(2, 3, 4, 5)
Display Food menu with Grid, List, Table, Carousel(Slider view)
Admin create Food and manage order easily
Support email to admin and customer after order
Support select food by location
Ajax load more, pagination, popup food info
Support setting minimum amount
Review food system
Support open closing time order
Support Delivery date and time field in order
Unlimited Color. You can set color for all or each food
Support filter category – allows you create menu category, you can show all menu items or show by category
Multiple Payment mode support
User page with regiter/login/history booking
Coupon code
RTL mode support
Custom food info
Images gallery
Unlimited customize with font, color
Visual Composer support
Supper easy configuration
And more …
Release log

---------------------------------------------------------------------------------------
Version 1.0.2 - 15/01/2020
---------------------------------------------------------------------------------------
- Add order food by custom order field 
- Fix show wrong minimum order amount 
- Fix show wrong date and time delivery in order 
- Fix css bug
---------------------------------------------------------------------------------------
Version 1.0.1 - 14/01/2020
---------------------------------------------------------------------------------------
- Add option to set custom food color
- Add support images gallery
---------------------------------------------------------------------------------------
Version 1.0 - 13/01/2020
---------------------------------------------------------------------------------------
- First release

Source