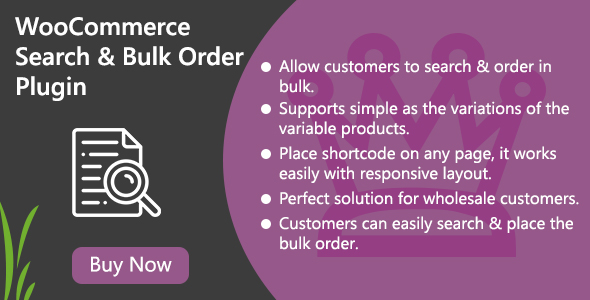 WooCommerce Search And Bulk Order Plugin empowers merchants to fascilitate customers the bulk purchase feature by placing a shortcode on any page. The bulk order table allows customers to search and add the any product available on the shop. The customers can search specific products of their own choice and add to bundle with specific categories, the customers create bundle of specific products and add to cart in bulk.
Features
Allow customers to search products & create the bundles of their own choice from complete shop.
Place shortcode on any page to view bulk order table.
Best for wholesale & B2B solutions.
Search & Bulk Order Frontend View
The shortcode [wcbo_bulk_order] can be placed on any page to allow customers to search products and add to cart in the bulk.
Backend Settings
The backend settings allow the admin to easily change the table columns & add the text between the search & products table.

Source