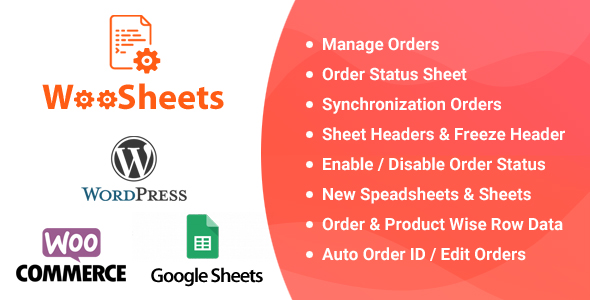 WooSheets Overview
Meet WooSheets, one of the best plugin to manage your WooCommerce Orders within one single Google Spreadsheet. It can easily manage your all the orders in single spreadsheets with 7 different order status. Each status will create separate sheets and automatically orders based on the order id.
It will be automatically changed the google sheet location once we are going to change the order status from admin side. We can also synchronize all the existing WooCommerce orders within the Google Sheet. There are 2 different options called Order Wise and Product Wise Row Data to manage your all the orders.
With WooSheets, you get professional 24/7 support and extensive Documentation.
The plugin has compliant with PHP 7.x, WordPress 5.2.x and WooCommerce 3.6.x.
WooSheets Features
Change log


Version 1.2 (7 May 2019)
------------------------------------------------------------------------------------
- Compatible With PHP, WordPress and WooCommerce latest version

- Manage Row Data (Order Wise and Product Wise Row Data)

- Auto Ordering

- Add SKU

- Freeze Headers

- Add New Headers for Product Wise and Order Wise Row Data

Version 1.1 (31 January 2019)
------------------------------------------------------------------------------------
- Compatible With WordPress and WooCommerce latest version

- WooCommerce Admin Edit order updates with Google Spreadsheet Data i.e. Billing Details, Shipping Details, Products, Item Total, Order Total etc. as per the header set.

Version 1.0 (6 October 2018)
------------------------------------------------------------------------------------
- Initial Version


Source